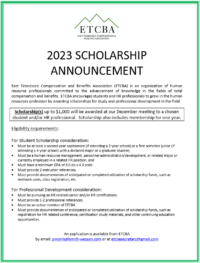 ETCBA is excited to announce that our annual scholarship application is now open! Do you know of a student or professional who is pursuing knowledge in the human resources profession?
Each year, ETCBA encourages students and HR professionals to grow their knowledge in Total Rewards by awarding scholarships for education and professional development. This year, we are awarding up to $1,000 to a student or HR professional! Scholarship winners also receive an ETCBA membership for one year.
If you are interested, please visit our scholarship page for details on how to apply: ETCBA Scholarship.
We will be accepting applications until October 31, 2023.