| | |
| --- | --- |
| Aug 13 | Competitive Pay and Market Pricing |
| Sep 11 | Seminar |
| Oct | Intern Mixer |
| Nov | Cooking Class |
| Dec 4 | Holiday Party |
We look forward to seeing you at our second quarterly meeting on 
Tuesday, June 2nd
from 
9-10:30am
via
 Zoom 
webinar. 
Ashley Trotto
, an attorney at Kennerly, Montgomery & Finley, P.C., will be giving a legislative update covering the SECURE Act, CARES Act, and Families First Coronavirus Response Act (FFCRA), in relation to the HR-related provisions of each. This is a great way to help keep you informed in this time of change. 
SHRM & HRCI credit are pending.
Tickets for members are 
FREE
 for this event, so use promo code "CARES2020" to reserve your spot today! Click 
here
 for tickets!
We are happy to announce an exciting opportunity with one of our partners. WorldatWork is offering 
FREE membership from May 1-July 31
 for all members of a Local Network. Because of our partnership with WorldatWork, you are able to enjoy all the member benefits and access to WorldatWork during this time. Make sure to check out everything that is included in the professional membership on their website: 
https://www.worldatwork.org/membership/
!
You should have received an email last week regarding your member ID. If you didn't receive that email, please let us know!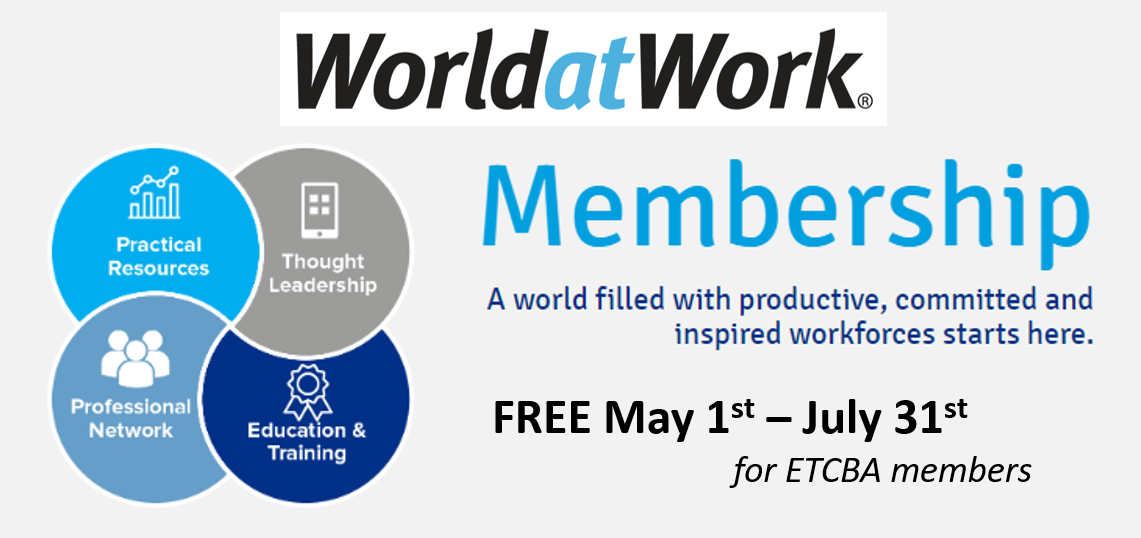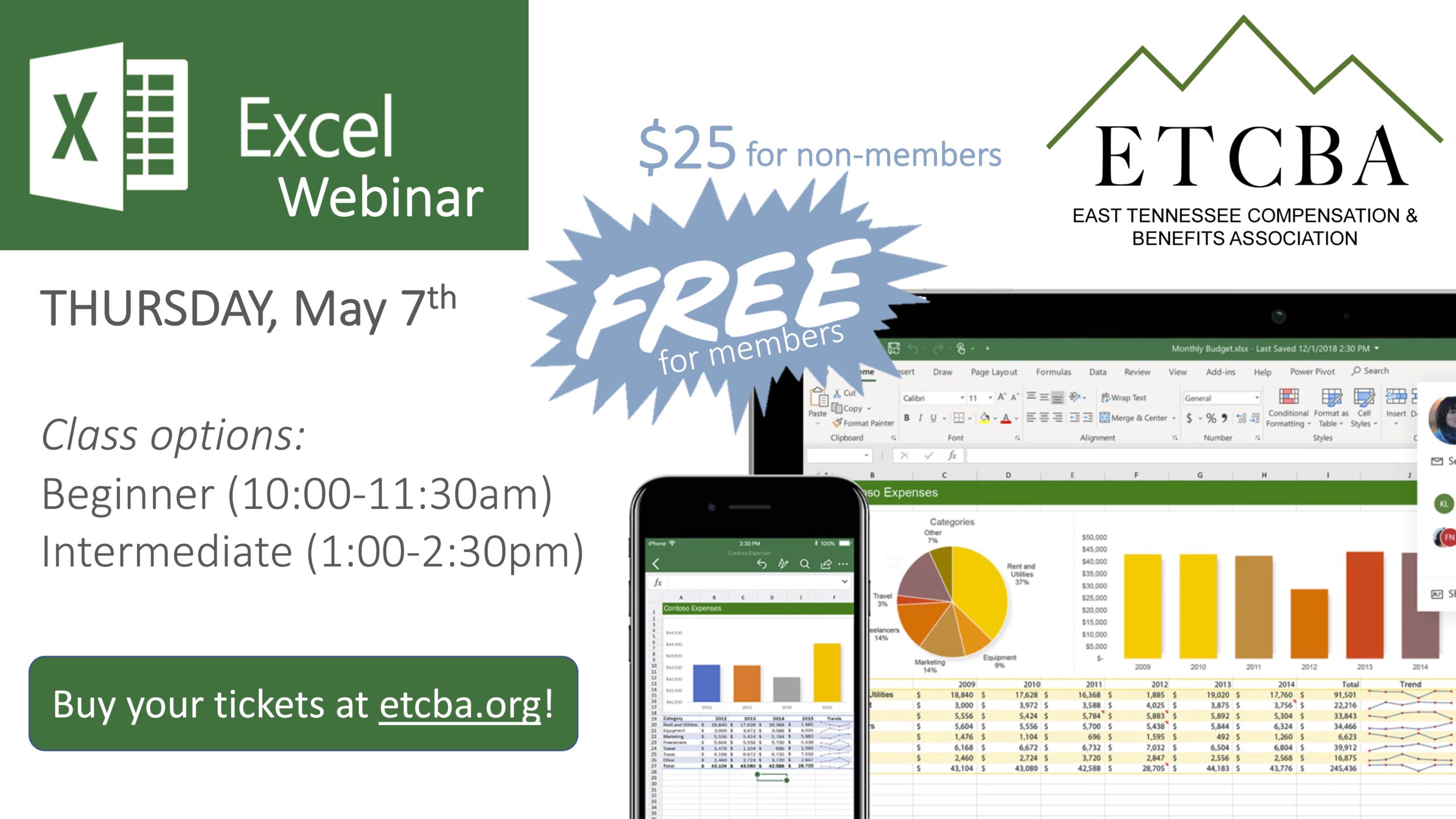 Come join us for ETCBA's Excel webinar! We are offering a beginner's class from 10:00-11:30am and an intermediate class from 1:00-2:30pm via Zoom webinar. This webinar is an interactive class, so make sure you have your computer ready to go! During this webinar, we will work through common Excel problems, introduce ways to analyze data, and make spreadsheets easier and faster than before.
The beginner class covers: navigating Excel, fundamental formulas, creating a table, using filters, etc.
The intermediate class covers: Pivot Tables, nested/complex formulas, conditional formatting, managing multiple spreadsheets, etc.
Reserve your spot today, click here! Check your email for the member promo code.
Within a week from the event, we will send you the Zoom conference link. If you have any questions in the meantime (including questions about which class to take), please email the class teacher, Brittney Dessinger (ambritta@bellsouth.net). We look forward to learning with you!
HR Generalist & HR Admin
Commercial Metals Company ("CMC")
"Are you ready to expand your HR career with a growth-oriented Fortune 500 Company? We are currently seeking a Human Resources (HR) Business Partner to join our team and provide exceptional support to our Tennessee and Ohio Valley locations. Leveraging their HR knowledge, the HR Business Partner will provide recruiting, onboarding, employee relations, training and development, process improvement and performance management. Employee Relations & Recruiting will be two key focus areas in the first year, and beyond. In this role, it is critical to build strong relationships and be approachable by all levels of employees, line and senior management. Travel up to 30 percent of the time will be needed to visit various locations supported. Occasional overnight travel should be expected. If you enjoy a fast-paced environment, problem-solving and want to leverage your HR experience to make an impact to the business, this is the job for you!"
To find out more or apply, click here.
CMC is also looking for an HR Admin position (less experience required). If you are interested, please contact Gwen Reichel (gwen.reichel@cmc.com).
---

Compensation Analyst
Covenant Health
"Do you have experience designing programs to recognize employees for their contributions? Are you interested in working as part of a team responsible for designing and maintaining compensation programs for the largest healthcare organization in East Tennessee? If so, Covenant Health is looking for a Compensation Analyst to work as a strategic partner in the administration of compensation programs. This key position is responsible for partnering with Human Resources (HR) to administer compensation programs across the Covenant Health system. The person in this role will participate in the development, implementation, and administration of a variety of complex compensation programs. They will analyze and evaluate market data to design pay structures that align with Covenant Health's Compensation Philosophy. This role is going to be involved in conducting job evaluations, market assessments, and maintains company job descriptions as well as reviewing data trends and recommends strategic solutions. This key contributor will also be responsible for tracking and presenting ideas around best practices for compensation programs. They will also function as a technical consultant to HR, hiring managers, and other customers and act as a resources for guidance on various professional and regulatory guidelines related to compensation."
To find out more or apply, click here.
---
If you have a job that you, or a colleague, would like posted on ETCBA's website, please reach out to etcbasecretary@gmail.com.