| Date | Event |
| --- | --- |
| December 3 | Holiday Party |
---
MEMBERSHIP RENEWALS
We are changing our membership renewal process! As a current member, you will receive a membership invoice from ETCBA by email in March. If you have any questions, contact etcbasecretary@gmail.com.
---

ETCBA is proud to partner with WorldatWork to bring you discounted member benefits! When registering for a WorldatWork course please contact the Customer Experience Team (CET) at 877-951-9191. Identify you are a member of ETCBA, a member of the Local Networks, and the course and date you choose to register. CET will then gather information to register for the course and apply the discount.
Education Link: https://www.worldatwork.org/education/
Membership Info: https://www.worldatwork.org/membership/
Click the link below for access to the recordings and PowerPoints of our most recent seminar! Thank you to all who attended and helped make the seminar successful.
New Work Exchange (keynote) /

Scott Cawood (WorldatWork)

Total Rewards: The Revolving Employee Experience (sponsor) /

Rebecca Shipley (Brown and Brown of Tennessee, Inc.)

Generational Differences /

Linda Blocksom (Radio Systems Corporation)

Panel Discussion: Teleworking /

 Leslie Beale (Profusion Strategies), Daniel Hereford (SmartBank), Tracy Young (LHP Capital), Becka Wilson (Radio Systems Corp.)
We are unable to provide recertification credit for anyone who watches the recording.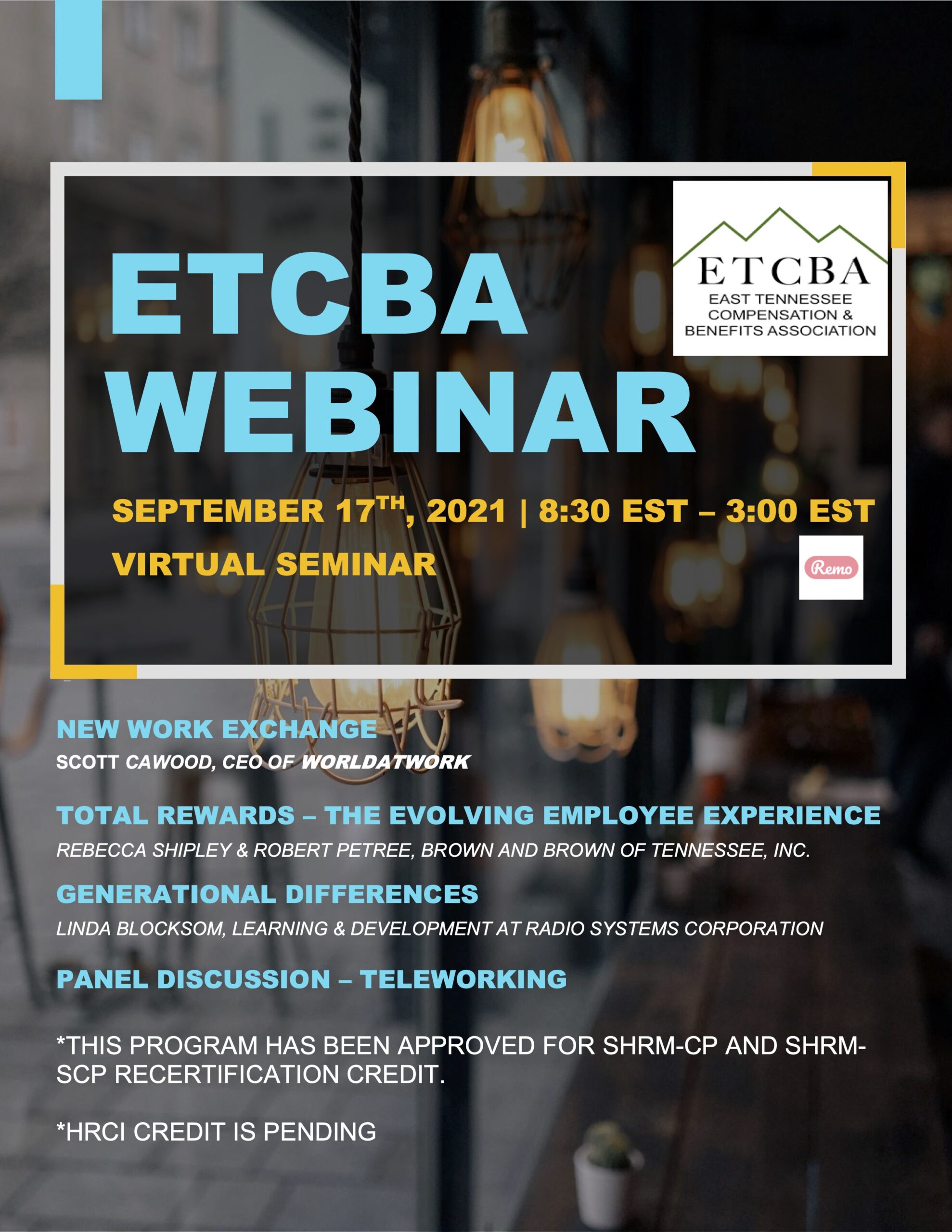 We are 1 week away from our annual ETCBA Seminar, so make sure to 
click here
 to "reserve your spot" and add this virtual event to your calendar! We are excited to have Scott Cawood, CEO of WorldatWork, along with several other captivating speakers at our seminar. The schedule for the day is posted in the link above, so make sure to visit the site to learn more. You're welcome to come and join for specific topics, or stay the whole time! This event is 
FREE
 for members, so we encourage you to take advantage of this benefit.
Sign up today!
Click the link below for access to the recording of our most recent webinar, "New Administration, New Rules? An Employee Benefit Law Update"! We encourage you to take advantage of this free legislative update reviewing recent employee benefits related legislation and published guidance and discussing practical application and administration of the same.
We are unable to provide recertification credit for anyone who watches the recording.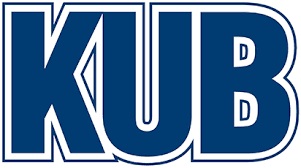 HR Benefits Analyst (17780)
Knoxville Utilities Board
"The Knoxville Utilities Board (KUB) is one of the largest public utilities in the country providing electric, gas, water, and wastewater services to more than 468,000 customers in Knoxville and parts of seven surrounding counties. We exist to serve our customers, improving their quality of life by providing utility services that are safe, reliable, and affordable. We are looking for employees who want to be a part of a mission driven organization with strong values that support a skilled, diverse and inclusive workforce."
The deadline to apply is Tuesday, September 14th: view the posting then apply here.
---
If you have a job that you, or a colleague, would like posted on ETCBA's website, please reach out to etcbasecretary@gmail.com.