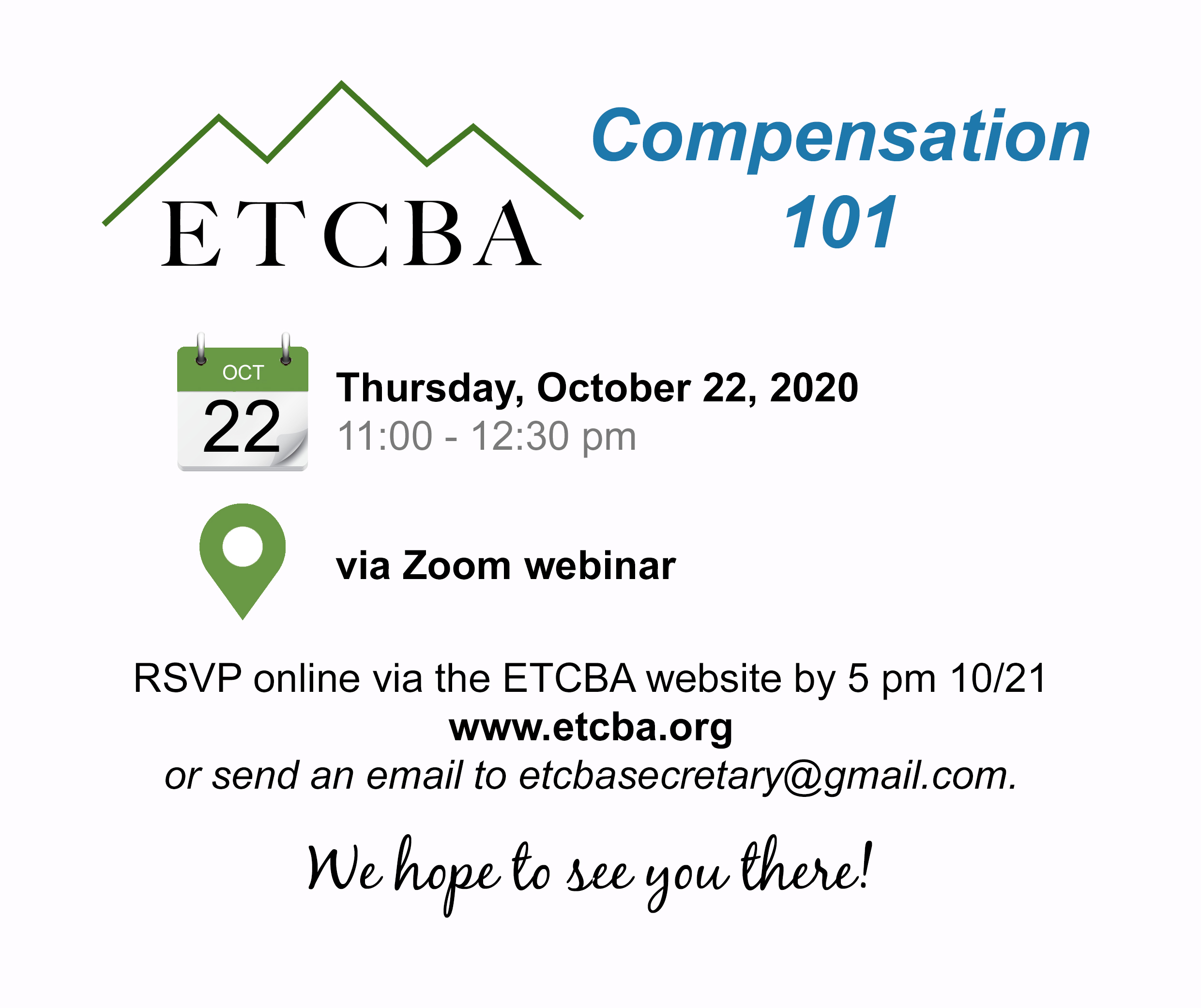 Join us for ETCBA's Compensation 101 class on Thursday, October 22nd. During this webinar, we'll cover the basics of market pricing, salary surveys, pay equity, job evaluations, & more.
The class is FREE for members, so use promo code "MARKET20" to unlock the free tickets.
Reserve your spot by clicking here!
We look forward to learning with you!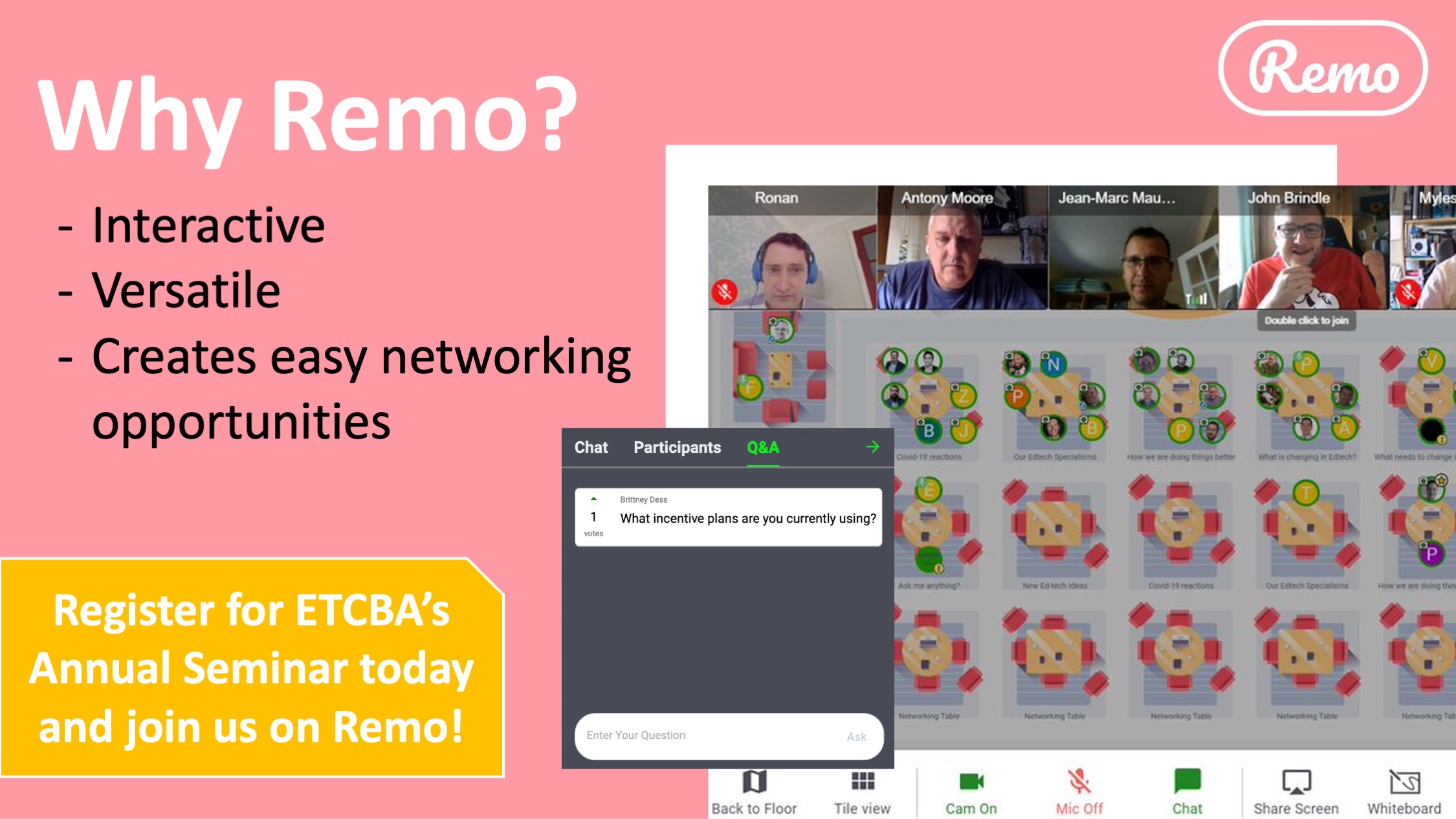 ETCBA's annual seminar is coming up in just 10 days! If you haven't reserved your spot already, sign up here. As previously mentioned, we are using a new conference software for our seminar: Remo. We wanted to take some time to highlight why Remo is exciting, not just for us as event managers, but also for you as a user!
Remo helps make remote feel more natural. The event space has tables that you can freely move between, an interactive chat box, vendor tables, and has several features in presentation mode for information sharing. I encourage you to check out Remo's website or watch this 40 second video to learn more: Remo Conference – Webinar and virtual networking video platform.

Note that Google Chrome is the preferred browser.
We look forward to connecting with you on Remo!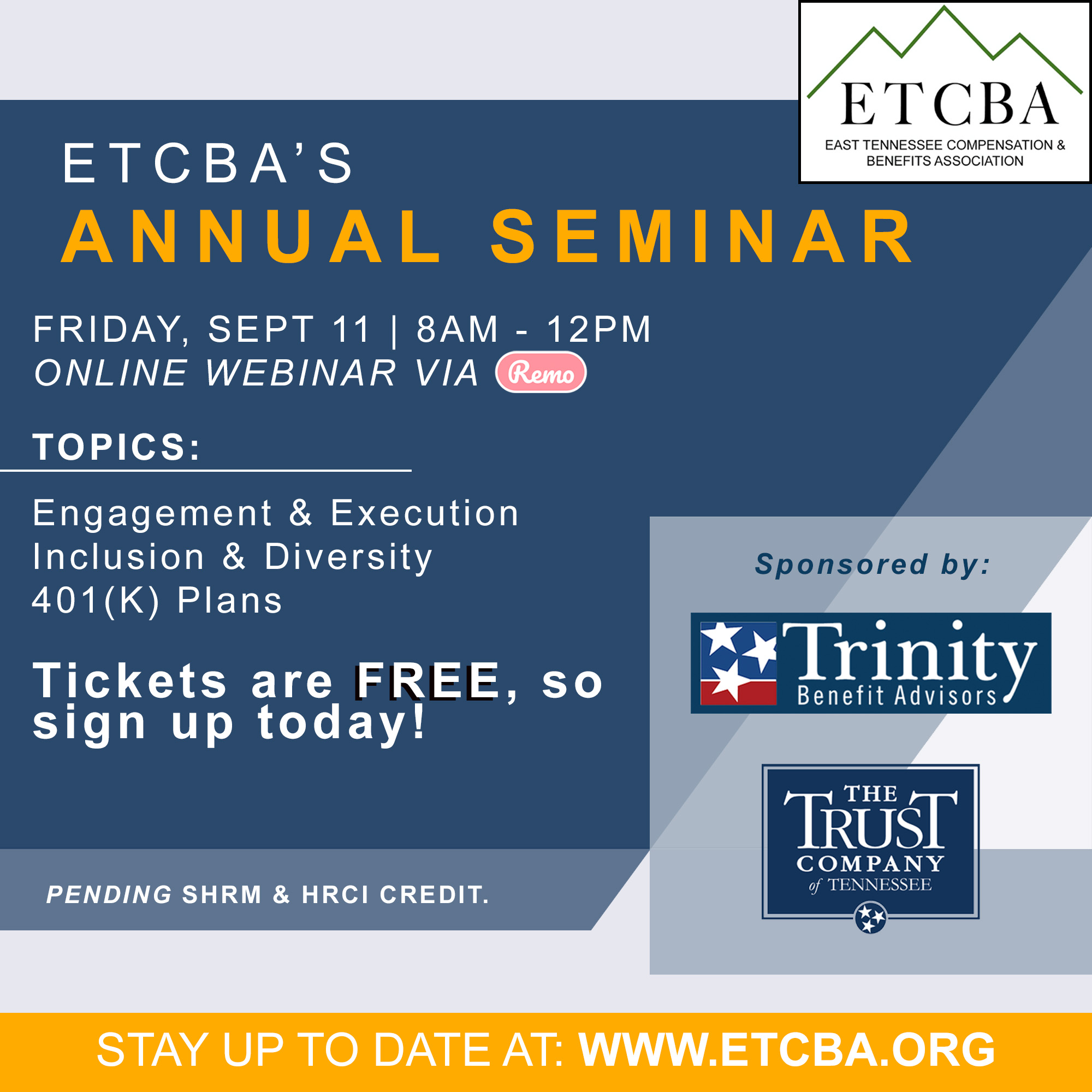 We look forward to virtually connecting with you for our Annual ETCBA Seminar! We'll be using Remo this year to host our event. Remo is an interactive platform that allows us to create a fun learning environment with opportunities for networking!
The seminar is from 8am – 12pm on Friday, September 11th. We have worked to gather relevant and intriguing speakers, covering topics such as: Employee Engagement & Execution, Inclusion & Diversity, and 401(k) Plan Management!
SHRM and HRCI credit are pending.
This is a great opportunity to get online and engage with other professionals in our community. Tickets are FREE, so make sure to CLICK HERE to reserve your spot today and share with others!

Recruiter
StaffSource Technology
"StaffSource Technology is seeking a Recruiter in the Nashville area to join our dynamic team! The Recruiter will be working alongside our Business Development Manager to recruit Technical positions in the Nashville and surrounding areas. This individual will be responsible for achieving staffing objectives by recruiting and evaluating job candidates, advising managers, account management and client relations."
Candidates interested in this position, please send your resume to jbindner@staffsource.com. To find out more, click here.
---

Compensation Analyst
Covenant Health
"Do you have experience designing programs to recognize employees for their contributions? Are you interested in working as part of a team responsible for designing and maintaining compensation programs for the largest healthcare organization in East Tennessee? If so, Covenant Health is looking for a Compensation Analyst to work as a strategic partner in the administration of compensation programs."
"This key position is responsible for partnering with Human Resources (HR) to administer compensation programs across the Covenant Health system. The person in this role will participate in the development, implementation, and administration of a variety of complex compensation programs. They will analyze and evaluate market data to design pay structures that align with Covenant Health's Compensation Philosophy. This role is going to be involved in conducting job evaluations, market assessments, and maintains company job descriptions as well as reviewing data trends and recommends strategic solutions. This key contributor will also be responsible for tracking and presenting ideas around best practices for compensation programs. They will also function as a technical consultant to HR, hiring managers, and other customers and act as a resources for guidance on various professional and regulatory guidelines related to compensation."
To find out more or apply, click here.
---

SR. Employee Relations Consultant
University of Tennessee, Knoxville
"This senior consultant position is fully knowledgeable about the functions of Employee Relations (ER) and provides support, consultation, and services to UT departments and employees. This position partners with all levels of the organization on a wide range of topics, including but not limited to, policy & procedure interpretation, mediation, conflict management, performance reviews, disciplinary action, reductions-in-force, restorations-of-force, the 946-CARE program, benefits, training, and documentation. This position provides work direction and oversight for various day-to-day operations of Employee Relations staff."
To find out more or apply, click here.
---
If you have a job that you, or a colleague, would like posted on ETCBA's website, please reach out to etcbasecretary@gmail.com.