| Date | Event |
| --- | --- |
| June 11 | Quarterly Meeting: Legal Update |
| September 17 | Annual Seminar |
| December | Holiday Party |
---
MEMBERSHIP RENEWALS
We are changing our membership renewal process! As a current member, you will receive a membership invoice from ETCBA by email in March. If you have any questions, contact etcbasecretary@gmail.com.
---

ETCBA is proud to partner with WorldatWork to bring you discounted member benefits! When registering for a WorldatWork course please contact the Customer Experience Team (CET) at 877-951-9191. Identify you are a member of ETCBA, a member of the Local Networks, and the course and date you choose to register. CET will then gather information to register for the course and apply the discount.
Education Link: https://www.worldatwork.org/education/
Membership Info: https://www.worldatwork.org/membership/
Click the link below for access to the recording of our most recent webinar, Compensation 101! We encourage you to take advantage of this free information session to learn more about a vital piece of employee recruitment and retention: compensation.
We are unable to provide recertification credit for anyone who watches the recording.

ETCBA is partnering with UTK-SHRM to donate over 200 shoeboxes to Operation Christmas Child. Shoeboxes can be dropped off to Dr. Mackey on Tuesday 11/10 from 4:30-5:10pm in the Rothchild's parking lot (8807 Kingston Pike, Knoxville, TN 37923) or on Monday, 11/16, in the UTK Plaza from 4-5pm. If you need to coordinate dropping off boxes, contact Dr. Mackey at (865) 216-0511.
Click here for more information on how to participate.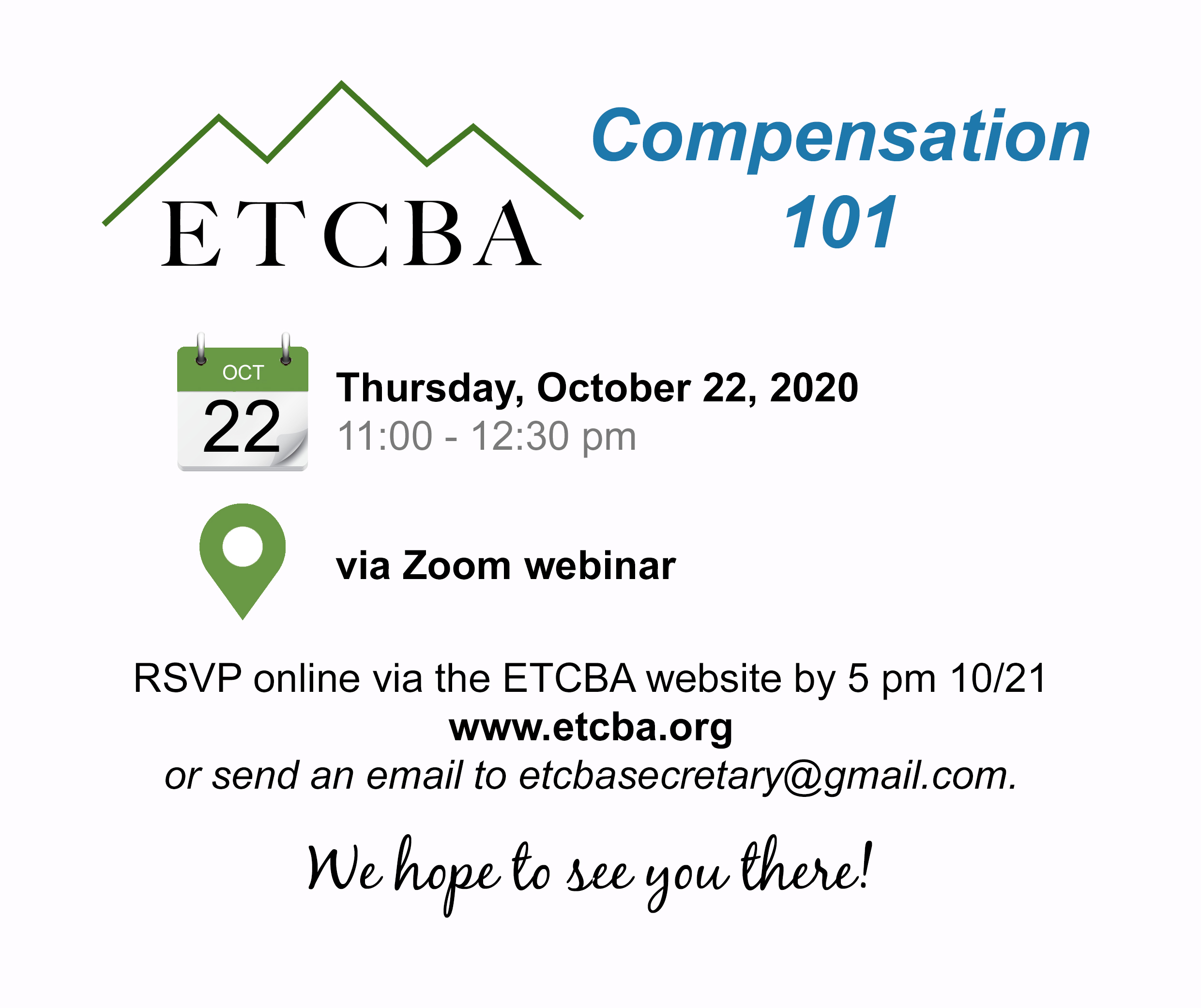 Join us for ETCBA's Compensation 101 class on Thursday, October 22nd. During this webinar, we'll cover the basics of market pricing, salary surveys, pay equity, job evaluations, & more.
The class is FREE for members, so use promo code "MARKET20" to unlock the free tickets.
Reserve your spot by clicking here!
We look forward to learning with you!
---
If you have a job that you, or a colleague, would like posted on ETCBA's website, please reach out to etcbasecretary@gmail.com.