| Date | Event |
| --- | --- |
| March 11 | Quarterly Meeting – Mercer presents: Benefits Report & Future of Work |
| June 11 | Quarterly Meeting |
| September 17 | Annual Seminar |
| December | Holiday Party |
---
MEMBERSHIP RENEWALS
We are changing our membership renewal process! As a current member, you will receive a membership invoice from ETCBA by email in March. If you have any questions, contact etcbasecretary@gmail.com.
---

ETCBA is proud to partner with WorldatWork to bring you discounted member benefits! We will be sharing a promo code soon for you to receive preferred pricing on WorldatWork products. Note that this promo code does not apply to all products; eligible products will reflect a price reduction when the promo code is used in the shopping cart.
Education Link: https://www.worldatwork.org/education/
Membership Info: https://www.worldatwork.org/membership/

ETCBA is partnering with UTK-SHRM to donate over 200 shoeboxes to Operation Christmas Child. Shoeboxes can be dropped off to Dr. Mackey on Tuesday 11/10 from 4:30-5:10pm in the Rothchild's parking lot (8807 Kingston Pike, Knoxville, TN 37923) or on Monday, 11/16, in the UTK Plaza from 4-5pm. If you need to coordinate dropping off boxes, contact Dr. Mackey at (865) 216-0511.
Click here for more information on how to participate.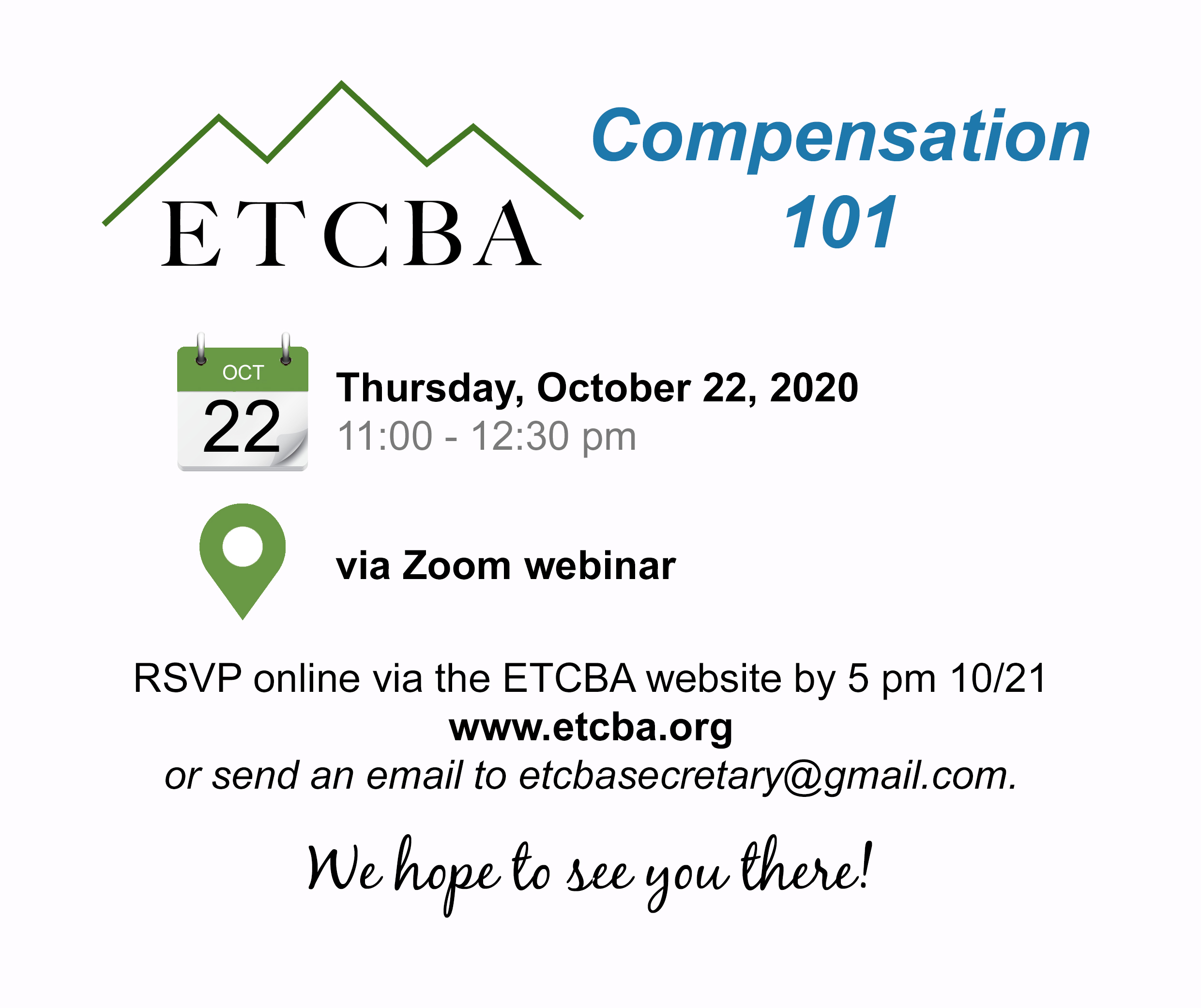 Join us for ETCBA's Compensation 101 class on Thursday, October 22nd. During this webinar, we'll cover the basics of market pricing, salary surveys, pay equity, job evaluations, & more.
The class is FREE for members, so use promo code "MARKET20" to unlock the free tickets.
Reserve your spot by clicking here!
We look forward to learning with you!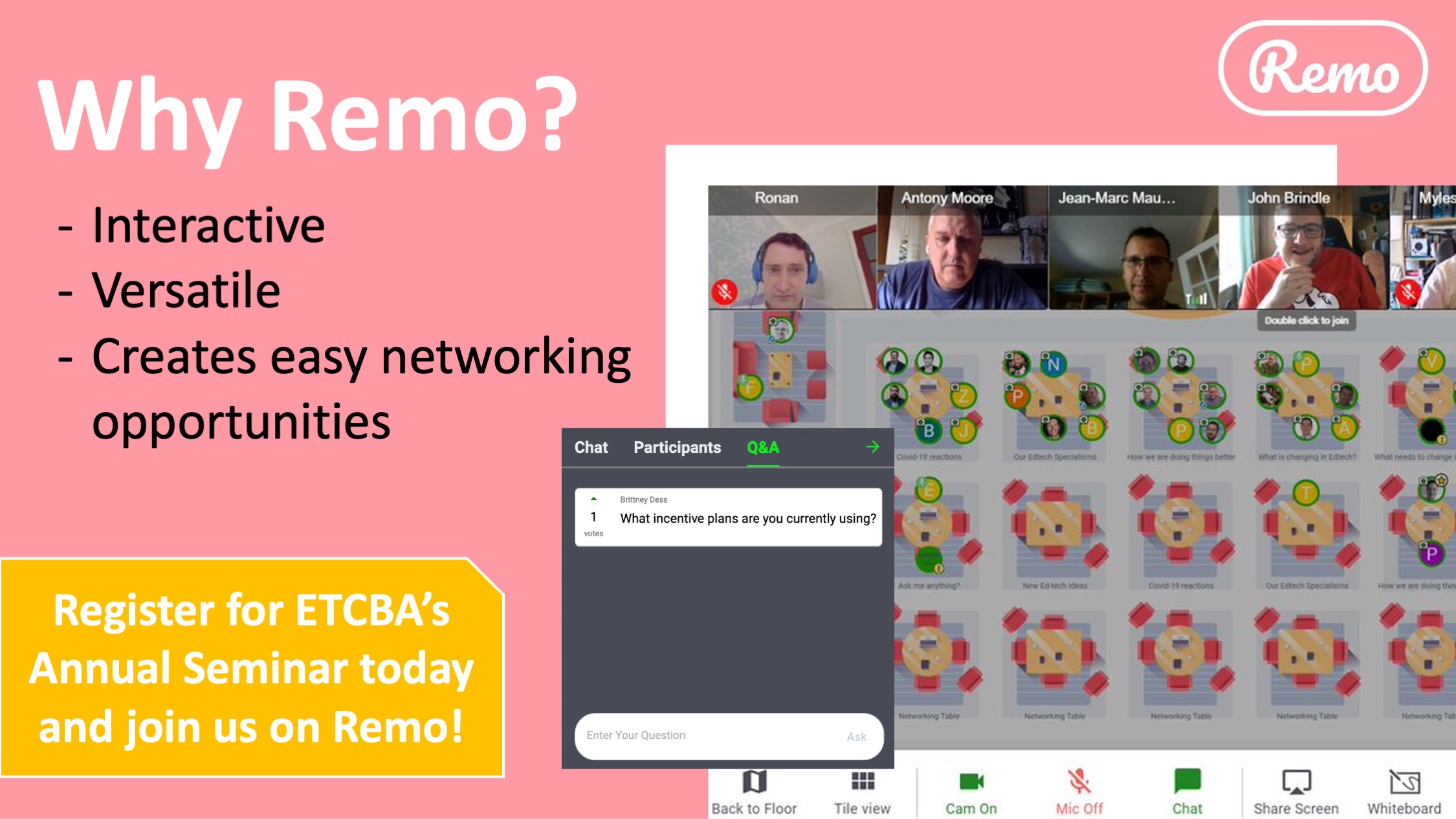 ETCBA's annual seminar is coming up in just 10 days! If you haven't reserved your spot already, sign up here. As previously mentioned, we are using a new conference software for our seminar: Remo. We wanted to take some time to highlight why Remo is exciting, not just for us as event managers, but also for you as a user!
Remo helps make remote feel more natural. The event space has tables that you can freely move between, an interactive chat box, vendor tables, and has several features in presentation mode for information sharing. I encourage you to check out Remo's website or watch this 40 second video to learn more: Remo Conference – Webinar and virtual networking video platform.

Note that Google Chrome is the preferred browser.
We look forward to connecting with you on Remo!

Total Rewards Analyst
U.S. Xpress, Inc.
"U.S. Xpress is one of the nation's largest asset-based trucking companies. But the most valuable asset we offer isn't tractors, trailers, or even our exclusive, cutting-edge technology. It's the collective brainpower of thousands of visionaries and problem-solvers. Together, we are revolutionizing the transportation industry by providing innovative, custom solutions. And, here, we believe in the sanctity of a promise—both to our customers, and our people. When we focus our varied talents on reshaping the future of transportation, that's what we call the POWER OF U.S.
The Total Rewards Analyst will play a key role in the overall success of the organization by ensuring employees are awarded and compensated equitably. In order to help identify opportunities for process improvement, you will take part in strategic initiatives designed to improve our rewards program. You will be a partner to employees and stakeholders across the business while actively focusing on how rewards programs evolve externally."
We are looking for someone who preferably has experience with fringe benefits, not just your standard benefits package. We want someone who can look at our benefits programs and research/make recommendations to make our benefits more competitive as part of our total rewards package.
To find out more or apply, click here.
---

Compensation Analyst
Covenant Health
"Do you have experience designing programs to recognize employees for their contributions? Are you interested in working as part of a team responsible for designing and maintaining compensation programs for the largest healthcare organization in East Tennessee? If so, Covenant Health is looking for a Compensation Analyst to work as a strategic partner in the administration of compensation programs."
"This key position is responsible for partnering with Human Resources (HR) to administer compensation programs across the Covenant Health system. The person in this role will participate in the development, implementation, and administration of a variety of complex compensation programs. They will analyze and evaluate market data to design pay structures that align with Covenant Health's Compensation Philosophy. This role is going to be involved in conducting job evaluations, market assessments, and maintains company job descriptions as well as reviewing data trends and recommends strategic solutions. This key contributor will also be responsible for tracking and presenting ideas around best practices for compensation programs. They will also function as a technical consultant to HR, hiring managers, and other customers and act as a resources for guidance on various professional and regulatory guidelines related to compensation."
To find out more or apply, click here.
---

SR. Employee Relations Consultant
University of Tennessee, Knoxville
"This senior consultant position is fully knowledgeable about the functions of Employee Relations (ER) and provides support, consultation, and services to UT departments and employees. This position partners with all levels of the organization on a wide range of topics, including but not limited to, policy & procedure interpretation, mediation, conflict management, performance reviews, disciplinary action, reductions-in-force, restorations-of-force, the 946-CARE program, benefits, training, and documentation. This position provides work direction and oversight for various day-to-day operations of Employee Relations staff."
To find out more or apply, click here.
---
If you have a job that you, or a colleague, would like posted on ETCBA's website, please reach out to etcbasecretary@gmail.com.