| Date | Event |
| --- | --- |
| September 17 | Annual Seminar |
| December | Holiday Party |
---
MEMBERSHIP RENEWALS
We are changing our membership renewal process! As a current member, you will receive a membership invoice from ETCBA by email in March. If you have any questions, contact etcbasecretary@gmail.com.
---

ETCBA is proud to partner with WorldatWork to bring you discounted member benefits! When registering for a WorldatWork course please contact the Customer Experience Team (CET) at 877-951-9191. Identify you are a member of ETCBA, a member of the Local Networks, and the course and date you choose to register. CET will then gather information to register for the course and apply the discount.
Education Link: https://www.worldatwork.org/education/
Membership Info: https://www.worldatwork.org/membership/
Welcome back to another great year with ETCBA! We had great success with our events last year and look forward to connecting with you more. Our focus this year is to provide content-rich quarterly meetings, but may expand to more networking or member only events as the year goes on.
We are excited to announce a new process for membership renewal! In March, you will receive an email from with an invoice from PayPal to renew your membership. There is no need to renew through ETCBA's website. If there are any changes to your membership (add/remove members, change to email address or job title, etc.), please reach out to our Membership Chair, April Moore (aprilmoore577@gmail.com), and she will make sure to update your information.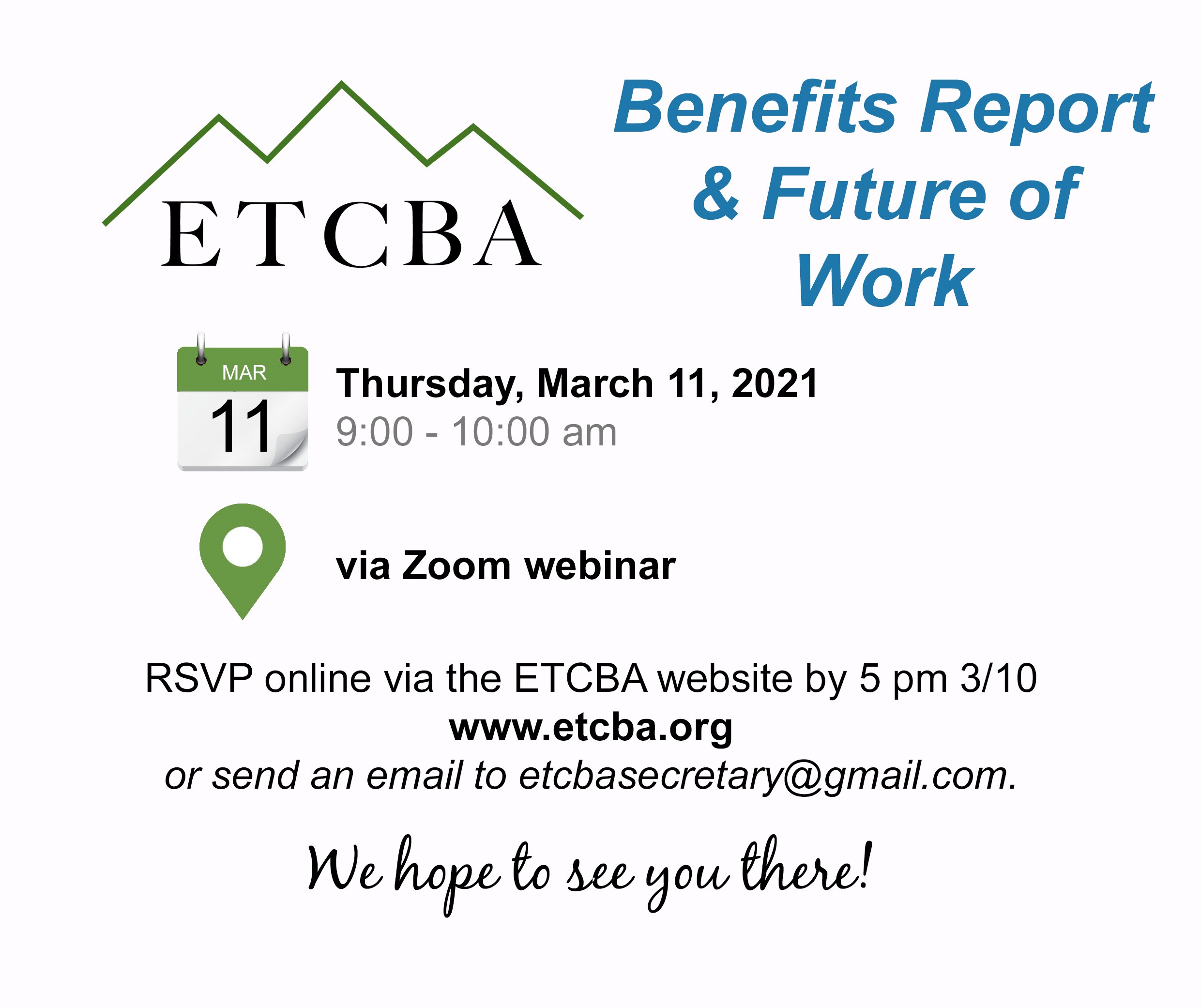 Our first event of the year is a Benefits Report & Future of Work presentation by Mercer's own Jake Davis & LaCinda Glover on Thursday, March 11 from 9-10am ET. Registration is FREE for members and students, and $5 for non-members. The meeting will be via Zoom, so make sure to RSVP to receive the event link by signing up here and using promo code "WORK2021" to unlock the free member ticket. This event is pending SHRM & HRCI credit.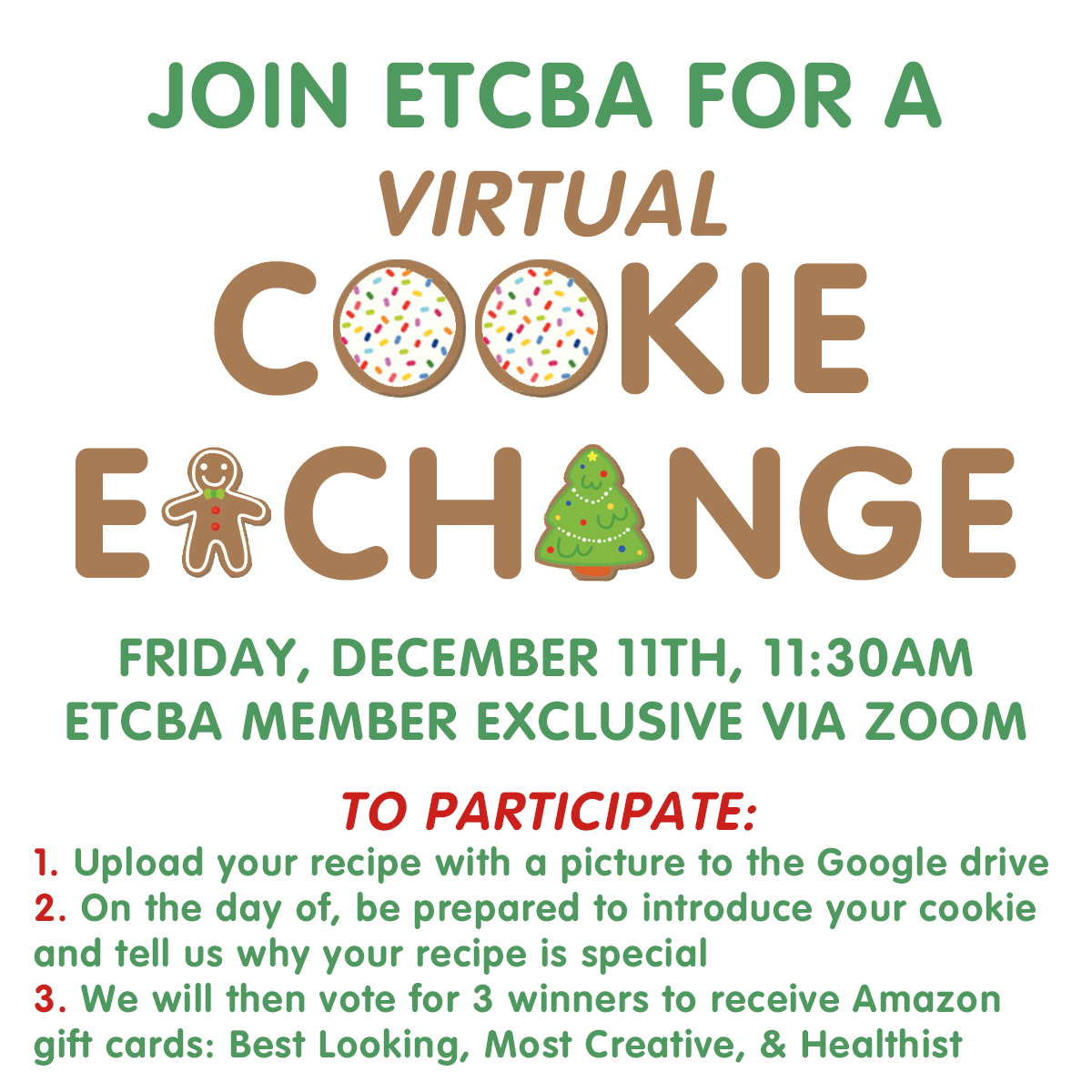 Come join ETCBA for our Virtual Cookie Exchange on Friday, December 11th, starting at 11:30am. This is a member exclusive event, so check below for the Zoom link & Google Drive link for cookie submissions. We will have prizes to award, so submit your cookie recipe & pictures early!
Zoom: https://tennessee.zoom.us/j/92099251438
Google Drive: https://drive.google.com
We will miss gathering with everyone this year, but are looking forward to exchanging recipes & stories with you! We are also excited to be announce our scholarship winners at this event! Thank you to all who submitted or shared the opportunity with coworkers.
If you have any questions, please contact info@etcba.org.
Click the link below for access to the recording of our most recent webinar, Compensation 101! We encourage you to take advantage of this free information session to learn more about a vital piece of employee recruitment and retention: compensation.
We are unable to provide recertification credit for anyone who watches the recording.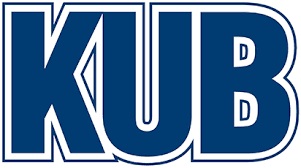 HR Benefits Analyst (17780)
Knoxville Utilities Board
"The Knoxville Utilities Board (KUB) is one of the largest public utilities in the country providing electric, gas, water, and wastewater services to more than 468,000 customers in Knoxville and parts of seven surrounding counties. We exist to serve our customers, improving their quality of life by providing utility services that are safe, reliable, and affordable. We are looking for employees who want to be a part of a mission driven organization with strong values that support a skilled, diverse and inclusive workforce."
The deadline to apply is Tuesday, September 14th: view the posting then apply here.
---
If you have a job that you, or a colleague, would like posted on ETCBA's website, please reach out to etcbasecretary@gmail.com.